Why London?
Planning our first trip to South Africa,  London became our stopover/connecting city.  One of the world's greatest cities, a cosmopolitan melting pot with so many neighborhoods, so much charm, so much history and a center of influence.  Of course, it is a hub for British Airways – all that said, there were plenty of reasons to immerse ourselves in this city's culture, history and commerce.
London is a vibrant city – one that always gets our attention.  A relatively quick 6.5 hour flight from the states by way of  IAD (Washington, Dulles)  to Heathrow via British Airways and a stellar decision – as London now knows my name!  The challenge for us — what do we choose to see and experience in less than 36 hours?
Difficult to believe I've traveled to other European cities, however, London escaped me – until this summer.  IAD to Heathrow on British Airways was a pleasant flight; we were able to upgrade to business class which meant we could sleep and not be jet-lagged upon arrival.  Knowing our stay was abbreviated, we carved out time for discovery, and  two four hour tours with Nigel Rundstrom  (http://mirandustours.com)
The first day our  tour was "off-the-beaten-track in East London and the second day, West London.  West London has such history and there are some notable sites not to be missed, especially for a first time visit to the city.
This summer London won my heart.
Less than 36 hours
Arriving in London on Sunday morning was an advantage —  traffic wasn't an issue.  Jackpot!!  Four hour off-the-beaten-track tour with Nigel in East London took us to   Shoreditch/Spitalfields, then west of town to become acquainted with Soho, Seven Dial and Covent Garden.  Nigel dropped us off at Covent Garden and we enjoyed the scenery, especially since retailers dressed their stores for the Chelsea Flower Show.  Timing was perfect!
Second day
Our West London "highlights" included: Westminister Abbey, Parliament Square,  Tower of London, Statue of Millicent Faucet, the suffragist who fought for women's right to vote, Thames River,  Albert the Great Statue, Royal Albert Hall and Buckingham Castle.  There is so much more to see in this metropolis – so our list – albeit a short one,  gave us a brief introduction to the city on the Thames River.
Nigel Rundstrom was fantastic, quite knowledgeable, and flexible with our wish list.  I highly recommend his services.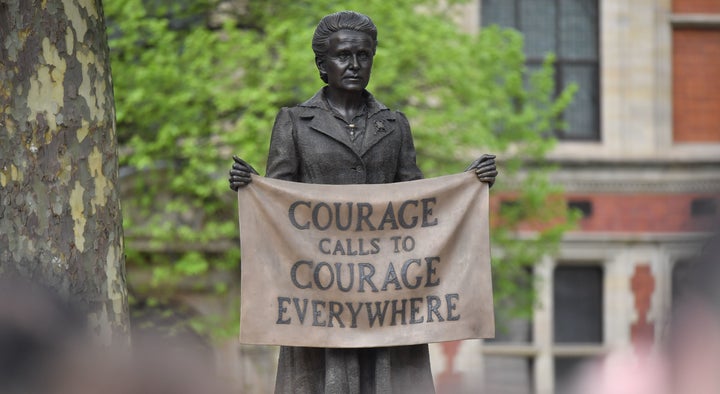 Pimm's #1
Thanks to Nigel for introducing us to Pimm's #1.  Just what is Pimm's #1? It is a gin infused cocktail (with fruit) that has its origins as a digestif circa 1823-1840.  Pimm's is deep red in color, infused with herb botanicals, spices and caramelized orange.  Can't go to London without trying a Pimm's.
A well-deserved Pimm's #1 may be found  at The Prospect at Whitby, located at 57 Wapping Wall, in the London borough of Tower Hamlets.  https://www.facebook.com/TheProspectOfWhitby/?ref=br_rs
Blakes Hotel
Accommodations always matter to me – so my personal preference when traveling is to find small, neighborhood hotels – ones that can't be duplicated easily, provide memories that last forever, and a history of another time.  For me, traveling is a journey and everything about the journey matters as I am a  curious soul.  The Blakes Hotel was repurposed – not torn down, rather a set of Victorian townhouses that were repurposed into a neighborhood hotel – a charming hotel with an exterior that blended in perfectly with the residences. I am a proponent for breathing new life into existing architecture.
The Blakes Hotel in South Kensington, London delivered in every way possible.  Upon our early morning arrival we were greeted as if we had just returned home from a long journey.  The team at the Blakes Hotel greeted us with a smile despite the early morning hour, welcomed us into the dining room and promised to have our rooms ready early – way before check-in time.   The staff at the Blakes Hotel are responsible for the stellar words about this wonderful hotel nestled in a neighborhood of other townhouses.  It is always about the people you meet on the journey, as the journey is the reason we travel.  They welcomed us – as if we've come home.
When we arrived early morning the staff invited us to breakfast, fast forwarded having our rooms ready and were beyond kind.  From Maita at the bar to Thomas at the front desk and everyone we met during our stay, we thank you from the bottom of our hearts.
The Blakes Hotel staff arranged a car service to take us to Heathrow for our journey to Cape Town, South Africa.  To be continued……
Categories:
Travel
Tags: #britishairways, #buckinghamcastle, #camdenmarket #coventgarden, #flowershow, #gin, #London #BlakesHotel #eastlondon #pimms, #millicentfawcett, #mirandustours, #neighborhood, #nigelrundstrom, #prospectofwhitby, #Suffragetestatue, #thamesriver, #victoriantownhomes